Lofts are former industrial spaces (factories, warehouses, etc.) converted to be used for residential or commercial purposes. Among other things, their features include spacious rooms, large windows and high ceilings. Such interiors enjoy very much interest today. Apartments and offices alike are increasingly established in lofts, and more and more rooms are arranged in a similar style. But how to arrange an individual work area at a spacious loft office? Here's our advice!
A loft office – open space and industrial style
A loft-style office is primarily characterized by wide, open spaces. Thanks to high ceilings, large windows and lack of internal partitions, it is usually bright and evokes an atmosphere of freedom. A typical industrial interior usually combines raw components with materials of warm nature, as well as a vintage style with a modern one. This makes such spaces very interesting and inspiring. Therefore, loft offices are often chosen by companies operating in creative industries – such as architecture or advertising. The large area helps free exchange of thoughts and ideas as well as cooperation, thus becoming a perfect environment for teams which constantly have to communicate with each other.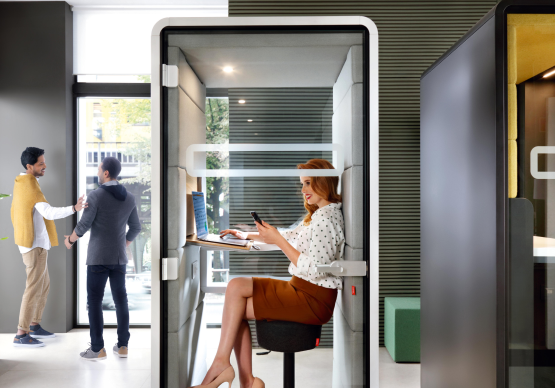 Individual work at a loft office 
Loft-style industrial office may pose certain problems as well. Wide, open spaces, presumably occupied by many people at a time, often create quite a hectic atmosphere. Such interiors are usually quite noisy – sounds of conversations, working devices or other noises (including external ones) reverberate against the walls and blend with each other, which may make individual work, requiring focus, very difficult. This is particularly a problem for those employees who poorly tolerate sensory overload. Achievement of the desired degree of concentration may even become impossible. What to do about it? It you cannot separate individual offices or individual work zones (which is usually expensive and time-consuming), you can use an alternative method: acoustic booths.
Hushoffice acoustic booths – individual work in silence and seclusion
The Hushoffice brand is a leader in the area of production of acoustic booths for individual and group work. The manufacturer's offer includes models which will work perfectly whenever silence, privacy and concentration are necessary. The booths excellently isolate the occupants from external stimuli, and are comfortable at the same time.
An excellent solution is the hushWork booth for individual work, accommodating a comfortable desk and a shelf. A large office may find the hushPhone telephone booth greatly helpful, as it allows calm conversation. With appropriate sound suppression, no noises will surely disturb you during a call, and its contents will not leak outside. Therefore, you can easily discuss even confidential topics.
[obraz_1]
In a hushPhone telephone booth, you can even conduct confidential conversations, since it is soundproof. Moreover, a collapsible laptop table allows you to perform focused work.
With the option of free configuration, the booths will easily fit in with any interior, including stylish industrial and loft offices. Do you wish to learn more? Check the manufacturer's offer on https://hushoffice.com/!